Retractable roof systems are a rising trend in pools and outdoor living because of the many benefits. After all, these enclosures can help create that distinctive and unique open-air room while still providing protection during inclement weather. Furthermore, these structures are versatile and suit numerous applications, from homes, cafes, restaurants, among other businesses.
This modern roof system would add new dimensions and styles to commercial and residential exteriors. They are practical and made to last for years. Furthermore, they are user-friendly but add that touch of luxury to properties, giving businesses and homeowners the bang for their buck. But wait, there's more!
Read on to learn more about the advantages of retractable roof systems and why they are worth investing in for your home or business.
Retractable Roof Systems are Versatile
One of the most popular benefits retractable roof systems have is their versatility and flexibility.
When you keep it closed, your enclosure can protect you and your furniture from the sun, wind, and rain. But you can also retract it entirely to let the sunlight and beautiful day in! It's also great for evening entertainment as you can open the enclosure and stargaze come summer season.
You don't only get closed or open; people can also leave the enclosure partially open to let in the ideal amount of sun and warmth between seasons. Not only do you experience more flexibility with retractable enclosures, but you can operate it with a click of a button!
Complete Snow and Rain Protection
Here at Covers In Play, we can build an aluminum retractable roof enclosure that offers enough strength and durability to withstand various weather conditions. They are also built with high-quality industrial-grade materials, such as powder-coated aluminum, strong weatherproof materials, and stainless steel.
When keeping it completely closed during the rainy and snowy season, you won't have to worry about the weather ruining your day. Moreover, our aluminum framing is solid and made with excellent construction; it will last for years with minimal maintenance with no rust or corrosion to worry about.
Since our retractable roof enclosures have solid materials and construction, you can stay in your outdoor area without getting cold or wet. Enjoy the outdoor views and ambiance, welcoming and entertaining guests there, so your patio doesn't go to waste. Even during the heaviest snow days and downpours, you can enjoy the outdoors.
Expanded Living Area
Retractable roofs can expand your home's living area. It can also extend the seating area, creating a more functional space, like a sheltered alfresco area to dine out and entertain guests. It's a practical solution to accommodate more people during gatherings and can create a beautiful space for your home that's comfy and climate-controlled.
Retractable Roof Systems Protect Furniture
When you leave your patio and furniture open, then the pillow, fabrics, and other materials would fade, even shrinking, once exposed to poor weather. When left outside in the snow or heavy winds, it can experience damage or topple over. As a result, you must protect your furniture by placing them in storage during the colder season.
But even then, it takes a lot of time and effort. Furthermore, what if you weren't expecting rain or snow? Your furniture can end up getting damaged even when you try your best to keep it from the elements. 
When you invest in an enclosure, you can keep it closed during poor weather conditions. If you weren't expecting lousy weather, you could quickly enclose the space rather than panic over your furniture getting ruined. Your furniture also stays protected during extremely sunny days when the UV rays can damage them.
Besides that, retractable roof systems can protect your pool! It's why you can see the enclosure of municipal pools becoming a trend in different parts of the USA. Facility managers won't have to hassle themselves with infrequent cleaning and chemical treatments with a protected pool.
Furthermore, an enclosed pool means a clean pool that swimmers can access any time of the year, thus increasing attendance. For pool facility managers and homeowners, it means spending less on cleaning and chemical treatments and letting people genuinely enjoy the pool, rain, or shine.
Electronic Retractable Roof Systems
When installing a retractable roof system from us at Covers In Play, you can choose to have it built with state-of-the-art motorized controls. That way, you can control the enclosures via remote control. With just a click of a button, you can close or open your enclosure in minutes.
Combine Retractable Roof Systems with Added Features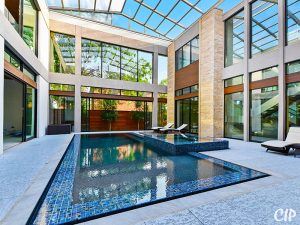 You can have many other additions with your retractable roof enclosures, such as lighting systems, outdoor blinds, and the like. This can enhance your outdoor area's ambiance and give you more control over how you use your outdoor space.
With us at Covers In Play, you can choose from many different features and styles to create the perfect enclosure made for you and the house. You can integrate additional elements into your area and surroundings, with the enclosure matching your house's color scheme to blur the borders between outdoor and indoor living. You can also make it according to your outdoor swimming pool size and shape, enhancing its function and aesthetic.
Increase Your Home Value
Besides creating more living space, a high-quality retractable roof system can add more value to your home or property. After all, your house gains a stylish entertaining area, further advancing the lifestyle and outdoor living.
Besides that, the outdoor shade protection can give your home more insulation from the cold and heat, saving you money on cooling and heating costs. This will also reduce your impact on the environment!
Wrapping It Up
Here at Covers In Play, we specialize in fixed and retractable roof enclosures, even installing them with electric systems for your ease. Our retractable swimming pool enclosure systems come in various options so you can negotiate the prices and economize the final design.
We can accommodate your budget and individual needs!