Pool enclosures provide numerous benefits that make it worth the long-term investment, whether you're a homeowner or a public pool owner. But there's always one important thing to consider when heavily considering a pool enclosure, and that's the overall price.
Let's get straight to the point: On average, a swimming pool enclosure would cost between $60-$110 (or more) per square foot. The final cost will ultimately depend on different factors, including the size, material, layout, among others. Let's dive deeper into what determines the swimming pool enclosure cost!
Factors Affecting the Pool Enclosure Cost
On average, a swimming pool enclosure can cost about $100,000, with the typical price range going from $75,000 to $150,000. Higher-end pool enclosures can cost up to $200,000 or more, while lower-end ones can go for as low as $30,000 (though these are made of poor materials and construction, which we don't recommend getting).
There's a possibility of spending upwards of $200,000 for a swimming pool enclosure, but there are factors that can help reduce the total cost. Before you pay for a swimming pool enclosure, make sure to talk with the company on how to economize the design through these factors:
Pool Enclosure Size
The size will determine everything, from the design down to the swimming pool enclosure cost. Of course, the larger your enclosure, the lower the price per square foot. However, you will still incur a overall higher cost.
That's why when you consider the swimming pool enclosure size, look into your pool and deck's overall layout. Consider the seating area by the pool, such as adding lounges, lawn chairs, tables, among other patio furniture. You may also have added pool features such as a diving board, fountains, slides, planters, rocks, and other decorative items placed around the pool and walking area, increasing the need for a bigger enclosure.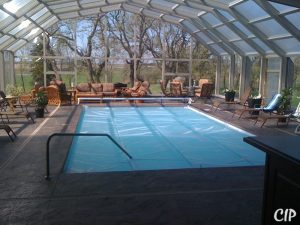 Moreover, don't forget the pool cover at the end of your pool, which is either on the deck or built-in. Many people tend to overlook this equipment and forget that it requires space, too.
Where are You From?
Yes, where you're from can dictate the overall swimming pool enclosure cost, as prices of construction foundation materials and labor would vary from one area to another.
Furthermore, your area's climatic condition can determine the total swimming pool enclosure cost. If you live in an area where heavy winds, snow, and rains are rampant, then you'll need a stronger enclosure with enhanced constructions and materials, which can drive up the costs. But the slightly higher prices will be worth it in the long run as such premium materials can withstand the weather and protect your pool, along with the swimmers.
Pool Enclosure Design
After determining the size of your swimming pool enclosure, it's time to consider the overall design. The design is heavily influenced by whether you have a freestanding enclosure or one that's attached to an existing structure.
There are many different pool enclosure designs you can choose from depending on your budget and preferences. The more complex a design is, the more expensive the swimming pool enclosure cost becomes.
You can choose between two significant types of pool enclosures: fixed and retractable. This is one of the major factors to consider and drive up costs. The retractable pool enclosure cost is higher than fixed ones as the design complexity increases, even if it covers the same area. We'll talk about that in the next section!
 Fixed or Retractable Pool Enclosure?
As the name suggests, fixed pool enclosures are fixed structures that won't move, making them more cost-effective to create. You can add bi-fold doors, windows, or sliding doors to improve fixed enclosures and allow them to open up a bit, bringing in the fresh air.
On the other hand, retractable pool enclosures (also known as telescopic enclosures) have fixed and moving sections. That way, pool owners can open up the enclosure during better days, fully uncovering the pool and deck area. The moving sections, which we also all bays, would slide over or under one another.
As a result, you can have the best of both worlds: An indoor or outdoor pool to enjoy regardless of the weather. Retractable pool enclosures would significantly enhance your pool's function and versatility as they can extend your deck beyond the enclosed area when opening it.
Usually, you would move the bays manually, requiring two people to open the enclosure by hand. It would take about 5-10 minutes. You can find newer retractable pool enclosures that are easier to move, though they take more effort in the long run.
That's why there are retractable pool enclosures that have advanced technology built into them from Covers in Play patented drive system. You can have an electric drive system installed to automatically close or open your enclosure with just a click of a button. While this would definitely drive up your retractable pool enclosure cost, it's worth the investment as it lessens the time and effort having to fix the pool area, especially if you have health issues or live alone.
Snow and Wind Load
The snow and wind load wouldn't likely be one of the first things to consider in a pool owner's mind. However, it's what the engineer would prioritize. If you're from an area with a ton of snow, wind, and rain, then you need an enclosure designed to withstand such heavy conditions.
Since pool shelters aren't made for real snow or wind loads, these structures would fail and have a short lifespan. The higher the wind and snow you receive, the larger and stronger the structural framing must be.
Such framing components would increase the swimming pool enclosure cost, but not too significantly, as enclosures must be designed for inclement weather in the first place. Like ours from Covers In Play, pool enclosures would be able to stand up to whatever weather it experiences, regardless of where one lives.
The snow and wind load may also impact your enclosure design. The enclosure's roof shouldn't be flat in any section and must at least have a gable or peak roof so snow and water can slide off the enclosure. If you have a weaker system, too much rain and snow can result in an enclosure collapsing, incurring further damage (and mess!) to your pool.
The Materials
Another vital factor to consider is the materials your enclosure will be made of. The framing materials vary significantly from wood, steel, or even aluminum. If a company offers unsupported or non-reinforced vinyl, do not go for them, as vinyl alone won't have the strength to withstand the enclosure weight and weather.
Aluminum is the best framing material because of its rust and corrosion resistance in outdoor and indoor pool environments.
We compare this to wood or steel, which can experience a short lifespan because of the high humidity from evaporating pool water produces. If you choose wood or steel as your framing material, you will need to invest in an HVAC system to protect the enclosure framing. Even then, the materials can deteriorate over time if you don't maintain them properly. With the added time, money, and effort in maintaining these materials, along with the HVAC system's initial costs and electricity consumption, you'll end up spending more money in the long run.
Yes, aluminum may be a bit more expensive than wood or steel. However, you won't have to maintain aluminum as much. Moreover, you will not have to worry about its strength and durability to withstand inclement weather and other conditions.
The Glazing
One will also need to consider the glazing or materials used for covering enclosures. You can choose among acrylic, polycarbonate, laminated or tempered glass as glazing.
Acrylic and polycarbonate are cheaper and more durable than glass. However, it experiences more condensation on the inside come the cooler season. This isn't an issue in aluminum framing; it can be a problem for wood and steel in the long run. It's the way you don't find wood windows installed in houses today.
If you're considering using glass, you must have tempered or laminated glass for safety issues. Such types of glass are heavier, which requires the framing to be larger, supporting the load. As a result, you'll have a higher pool enclosure cost.
We don't recommend glass, though, as even these materials can break on impact! Also, you'll need to be more careful not to hit the glass with pool equipment or if you're playing around with family and friends.
Do You Save with Pool Shelters?
We consider pool shelters as enclosures, but these are merely low-cost structures only suitable for areas with mild climates. Meaning these shelters are only for areas without snow. At best, these structures can deal with very little snow and low winds.
Because of these shelters' low prices, we don't consider these as part of the swimming pool enclosure cost. Moreover, if you live in an area with intense weather conditions, whether heavy snow, winds, or rain, we recommend investing in a stronger swimming pool enclosure to withstand such elements excellently.
Wrapping It Up
The swimming pool enclosure price may seem hefty right now, but it actually isn't as much as you think. Here at Covers In Play, we prefabricate our pool enclosure systems, shipping them knocked down to installation sites. That way, onsite assembly and installation time goes down to about a week. But again, it will still depend on the enclosure's size and design complexity.